EAR-TO-THE-GROUND.
Check out some rad events and community updates below!
Featuring:
Three community updates
Three events this weekend/ the week ahead
Three upcoming events to watch out for
SIGN UP TO RECEIVE EAR-T0-THE-GROUND UPDATES RIGHT IN YOUR INBOX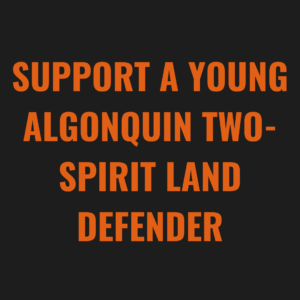 donate!
A young Algonquin Two-Spirit land defender from Kingston who has spent 18 months on the front lines is travelling to Wet'suwet'en early next month to support the Wedzin Kwa blockade. They are raising funds for travel and supplies for the camp. The current goal is $300.
Donations can be sent here tagged Land Back.
Or email mamamossdiapers@gmail.com with the message: Land Back
For more information on how to contribute, contact Aunty K's Tarot Insights or message Mutual Aid Katarokwi Kingston on Facebook messenger.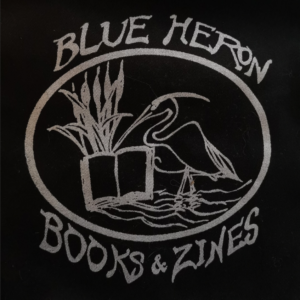 BLUE HERON'S GOT GIFTS
Blue Heron Books and Zines doesn't focus on selling stuff – but they do have some neat things you can pick up as gifts!
Used books at great prices – radical (and quirky) fiction and non-fiction options.
New books – they have a selection of local(ish) authors.
T-shirts are available at a sliding scale of $10-$20. All are printed on used t-shirts, and most are designed by AKA members!
Mondays 3:00pm – 7:00pm & Thursdays 5:30 – 7:00pm at AKA (75 Queen St. up the ramp)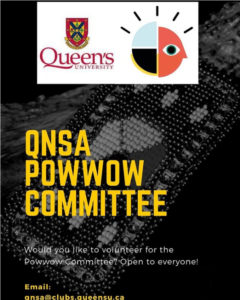 QNSA POWWOW COMMITTEE
This committee is open to both Indigenous and non-Indigenous students and faculty who are interested in organizing a powwow for next year. If you are interested in joining, please send the Queen's Native Student Association a message as soon as possible, as their next meeting will be coming up soon. Registration required.
THIS WEEKEND & THE WEEK AHEAD

Friday December 10 – THursday December 16, 2021

Tues – Fri 10:00am – 4:30pm; Thu 10:00am – 9:00pm; Sat – Sun 1:00pm – 5:00pm.
36 University Avenue
Agnes Etherington Art Centre: December Book Giveaway
Are you looking for the perfect gift for that art enthusiast, history buff or bibliophile in your life? Or, do you want to treat yourself and expand your library? Check out the Agnes's beautiful publications.
Available by donation (not available for shipping). Don't miss out!
Tuesday December 14, 2021

1:00pm – 2:00pm
City Hall, 216 Ontario St.
Kingston Youth Climate Action: Rally at City Hall
Join Kingston Youth Climate Action for their second rally as part of their Climate Emergency: Plan Like It! Campaign. Bring signs, masks, and friends! Follow their Instagram for more information to come.
Tuesday December 14, 2021

5:00pm
City Hall, 216 Ontario St.
Kingston Youth Climate Action: Letter Writing Session
Attend Kingston Youth Climate Action's Zoom letter writing/phone calling session to contact city leaders and let them know climate action is important. Led by KYCA organizers, these sessions will include toolkits (available at the link in their Instagram bio). Registration required.
More sessions scheduled this month!
January 14 and February 11, 2022

Agnes Etherington Art Centre: History is Rarely Black or White Speaker Series
This is an online speaker series on topics connected to the exhibition History Is Rarely Black or White. The two remaining talks, in chronological order, are as follows:
Fully Known: Cotton Production, Black History, and the Canadian Experience with Charmaine Nelson and Shannon Prince
Style as Armour: Identity, Clothing, and Self-Fashioning in History Is Rarely Black or White with Julie Crooks and Nigel Lezama
Registration required.
UPCOMING: January 27 – February 7, 2022
Reelout Queer Film Festival
Get ready for an amazing line-up of queer films! Follow @reeloutygk on Instagram for more updates.
Queen's Black Academic Society's Annual Conference.
Breaking Barriers: Black representation in the Workplace and Building Generational Wealth
Join the Queen's Black Academic Society's annual conference to discuss Black representation in the workplace and building generational wealth through financial literacy.