introducing Gaap.
Gender Affirming Assistance Project (GAAP) is a community-based group in Katarokwi/Kingston that seeks to provide support to Two-Spirit, trans, non-binary and gender diverse community members.
ABOUT US.
This grassroots collective was founded on the goal of reducing the barriers when accessing gender-affirming care, rooting all of our work in anti-oppressive, anti-racist, and intersectional ethics of care. As such, we are working to provide Katarokwi community members with two vital services: gender affirming gear (e.g., binders, breast forms, etc.) and social support (e.g., name/gender marker changes on identification cards).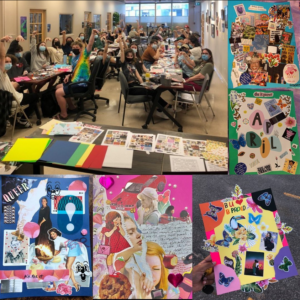 What is gender affirmation?
We define "gender affirmation" as ​​behaviours and/or actions that affirm a transgender, nonbinary, and/or gender non-conforming person's gender identity. This can range from using a transgender person's pronouns to a physician supplying a transgender patient with hormones.
WHY DID GAAP START?
Gender affirming apparel, such as binders, trans tape, breast forms, tucking underwear, transfeminine clothing, can be used to significantly reduce gender displeasure and gender dysphoria. However, for many people, these items are financially inaccessible. The problems of gender dysphoria and financial barriers are also apparent when we see trans and gender diverse individuals trying to change their name and gender markers on IDs, such as their birth certificate, OHIP card, and more.
Jane Mao, Sam Connolly and Jenna Huys, active members of the Queen's community, teamed up to start a project that hopes to reduce and/or eliminate some issues when accessing gender-affirming care by offering peer support when connecting people to resources and using a pay-what-you-can system to reduce financial barriers.
WE're here for community.
GAAP is a group founded by people with multiple marginalized identities, such as queer, racialized, and gender diverse, and our hope is to serve people with the same or similar identities and lived experiences. When we call GAAP a "community group", we mean that we are satisfying the needs of our own community.
For example, when we get requests from someone who is BIPOC (Black, Indigenous, Person of Colour), the GAAP respondent on the receiving end is also BIPOC because we understand the sensitivity needed when navigating the intersection between race and gender. Additionally, 25% of our working budget is is set aside to meet the needs of BIPOC. This commitment stems from the acknowledgment that Two-Spirit, trans, non-binary, and gender diverse BIPOC are often more likely to experience financial hardship due to the intersection of colonial, racial, class, and gendered oppression.
DONATE ITEMS
We have an ongoing donation drive for new and gently used binders, breast forms, and clothing. Our location at Trellis is accepting donations from 9am-12pm and 1pm-4pm every Monday through to Thursday. If you have items to donate, please access the side door on the left side of the building at 844 Princess Street.
DONATE $$
If you have the financial capacity, please donate via e-transfer to genderaffirmingassistance@gmail.com (write in the notes section "For GAAP") and all proceeds would go directly to us into our pay-what-you-can system.
Trellis HIV and community care
We are also working very closely with the wonderful Kate Simpson from Trellis HIV and Community Care on all of our work. Their website is trellishiv.ca and you can contact them at kate.simpson@trellishiv.ca