◉

Autonomous Food Production

◉

Really, Really Free Veggies

◉

Collective Direct Action
About US
The Mutual Aid Gardens Network based in and around Katarokwi/Kingston aims to improve access to fresh produce and create stronger community bonds in the context of ever-increasing capitalist individualism/nuclear family.
We don't rely on those in power to fix things for us – we come together and take direct action. We share space, harvests, and learn new skills together. All are welcome to participate – no experience required!
The crops we care for are harvested and distributed by and for community – for free! We host biweekly Really, Really Free Veggie Markets throughout the season.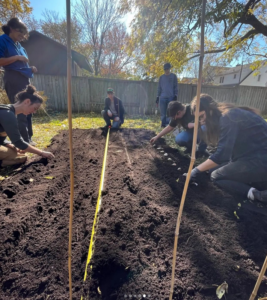 Get Involved for the 2023 season
The Mutual Aid Gardens Network includes:
people who can offer space for gardening*,
people who can offer labour and help in various forms,
people who need fresh food or medicines, or
any combination of the above.
Those who offer space in their yards are matched in small groups with others who can grow gardens for their own households' consumption and to contribute to the larger network's harvest sharing. We also have 3 larger plot gardens near Kingston which many can help to plant, harvest, and tend to. Working in the gardens includes physical labour. Support with transportation by giving rides to/from gardens located outside of Kingston is also needed and appreciated! Gas money will be offered.
*We are not currently looking for more gardening spaces for the 2023 season
◉ May Planting Sign up
Sign up to help with May planting using the form below!
◉ Really, Really Free Veggie MarketS
Have extra produce from your garden you'd like to share? Want to access free, locally-grown produce? Join us for our biweekly Really, Really Free Veggie Markets! Locations and timings below.
◉ Join our whatsapp group!
Join our Whatsapp group chat and introduce yourself! We organize work and rides here.
"We seek to build transformative social relations based on dignity, care, and collective power."

We're featured in The Skeleton Press Spring 2022, Issue 9, pg 28!