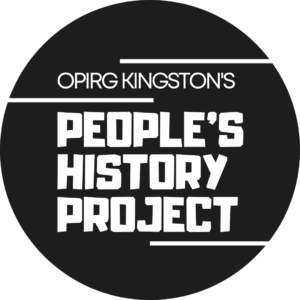 Opirg Kingston People's History Project
Are you curious about how Queen's students and Kingstonians have banded together to strive for justice and equality? Resisting oppressive institutions and asserting our rights and personhood has never come easily – it is an ongoing struggle that we all hold responsibility in, from the past to the future.
"Give all your love and anger, rise today for our future, as every voice takes power away from tyranny, united we strike, united we break out of evil peace." ~ Finn H
The People's History Project is here as a resource and archive, to recognize and preserve the important roles that students and community members have played in social movements throughout the years. The stories of people who participated in struggles for social and environmental justice – queer, Indigenous, Black, anti-racist, feminist, among many others – often go untold in "official" histories. The PHP seeks to engage with these stories by making accessible the rich history of social movements and resistance in Katarokwi/Kingston.
More to come, check the opirgkingston instagram for updates.
lISTEN TO THE PODCAST
Short 20 minute stories about Kingston and Queen's University history of activism.
The People's History Podcast illustrates the events in Kingston who have changed the sociopolitical atmosphere for the better, and the people that made it all happen. We cover stories from the beginnings of Kingston pride, racism at Queen's University, prisoner's justice, and more.
Podcast updates/ new episodes coming soon.